Some of you who know me are aware I coach minor hockey. I designed a hoody for our association a couple years back and to say the least they are loved everywhere we go. Several different teams have ordered the same or very similar design.
This summer I was fortunate enough to be selected to coach the Nova Scotia Young Guns team. ( all star team from a private spring association ) We were playing in a tournament in the states. 3 weeks before we were going once again I worked with Paul to design a hoody for this team. They came in the Thursday before we were leaving. Our schedule was for people to depart NS on Wed playing our first game Friday morning. The weekend before the tournament one of my players injured their ankle in a motocross accident. This meant I had to pick up another player. Not wanting them to feel left out ( dealing with 9-10 year olds ) I called Paul and asked him to perform a miracle, have a hoody in my hands in 2 days.
There are not many company's who would entertain such a ridiculous request. I am literally asking these guys on Monday to have a hoody printed, sewed and shipped by Tuesday for us to take Wednesday.
" Let me see what I can do Oak " was the answer. I had the proof later in the day, and the hoody in our hands Wednesday morning.
Couple pics of the final product. One of all the kids back on, and the other with NHLer James Sheppard who signed a few of them and commented on how awesome they were.

and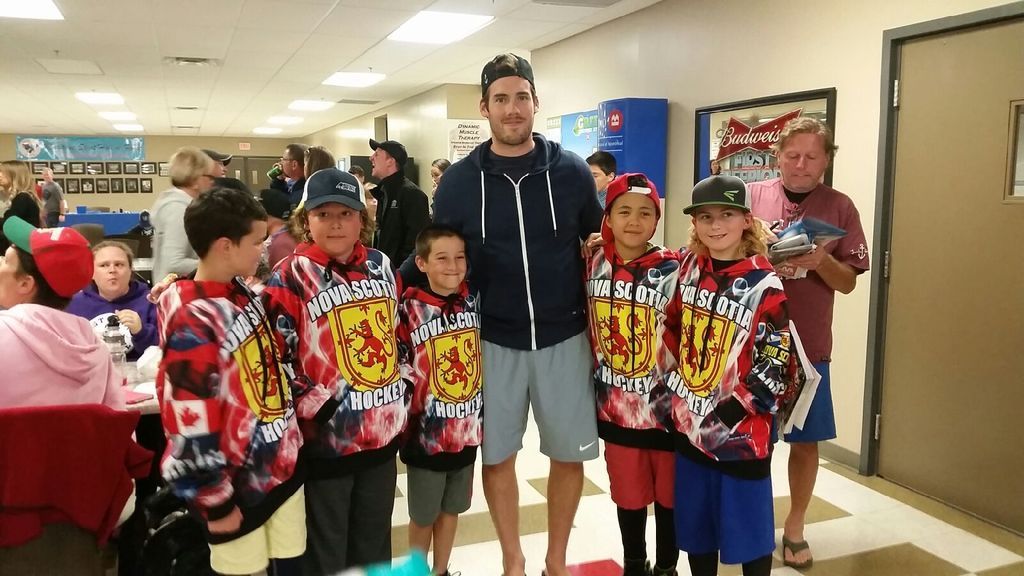 Thanks Massive from all of us.
Oak